COMMERCIAL CROWN SUITE LIFT
Complying to AS1735.1 / 12 General Passenger Lift
The Commercial Crown Suite Lift package is designed specifically for Commercial and Public applications. This Lift comes with all the requirements of AS1735.1 / 12 and is Design Registered with WorkSafe.
Complying with the Building Code of Australia (BCA) and the DDA for Limited Mobility.
Platinum Elevators have carefully designed a complete package for every Commercial Crown Suite Lift as "standard" making the Commercial Crown Suite Lift an extremely reliable General Passenger lift with automatic sliding cabin and landing doors. This commercial lift package is industry leading with many inclusions and technology comforts for the users.
TECHNICAL INFORMATION
| LIFT CODE | AS1735.1/12 |
| --- | --- |
| LOAD RATING | 630kg |
| SPEED | 0.60m/s |
| TRAVEL | 18m (Max) |
| PIT | 1300 mm (Min) |
| HEADROOM | 3300 mm (Min) |
| CONTROL CABINET | 810Wx400Dx2050H (mm) |
| POWER | Three Phase 415V |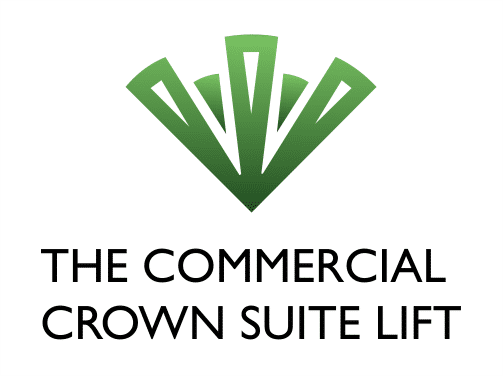 INCLUDED FEATURES
Cabin and Landing Door Enabling Keys
Auto Dial Telephone in Cabin
Brushed Stainless Steel Handrail
Brushed Stainless Steel Cabin and Landing Doors and Frames
All Push Buttons with Braille
No lifting beams required in shaft
SAFETY FEATURES – PEACE OF MIND
Battery backup and Cabin lighting in case of power failure
Automatic return to lowest floor
Full height light curtain protection beams across cabin entrance
Over Load Alarm and Indicator
Creeping Speed Feature
EACH COMMERCIAL CROWN SUITE LIFT PACKAGE COMES WITH THE FOLLOWING INCLUSIONS AS STANDARD:
COMPLETE DESIGN FLEXIBILITY
Whether it's for a new commercial build or looking to retrofit a commercial lift into an existing building, Platinum Elevators highly skilled consultants can assist you with design, ideas and concepts to ensure you get the correct product designed for the right application and complying with all current Australian commercial lift regulations. You will be amazed where we can incorporate a Commercial CROWN Suite Lift into any building design, minimising space and saving on unnecessary builders works.
Platinum Elevators will custom design the largest possible cabin size to suit any existing shaft or we can customise a Glazed Metal Structure Shaft to surround the Commercial Suite Lift in both indoor and outdoor applications. The Commercial CROWN Suite Lift by Platinum Elevators is an industry leading General Passenger Lift with reliability by design.
Manufacturing Your Suite Lift
Client: Probuild
Location: Eastland Shopping Centre (Ringwood) VIC
Platinum Elevators were able to meet a very tight schedule by working out of normal hours. The installation staff were very professional and friendly. Will certainly recommend you on future projects.
Mr Bullen – East Land Shopping Centre Project Manager
Enquire About the Commercial Crown Suite Lift Today
VIEW SOME OF OUR COMMERCIAL PROJECTS