Whoa! There are so many elevator decisions to make. Do you install a lift outside or inside your building/home? How much should you set aside? What do you want it to look like? Hmm…. decisions, decisions.
Just like anyone, cost comes into play when making a long-term investment. So if you're at the beginning of your journey or getting closer to making a decision, we hope you find clarity below on how much an outdoor elevator costs… and what you need to consider before buying one. 
Overview: The average price of a lift
In short, the average price of an outdoor lift depends on the lift application. As an indication, DDA compliant commercial lifts start from around $55,000 + GST and residential lifts usually range between $35,000 – $70,000. To determine how much an outdoor elevator will cost you, we must first look at a variety of factors. 
*​​Current market pricing from September 2021.
What's an outdoor lift
Outdoor elevators are external to buildings for design and operation preferences, or when there isn't enough internal space to install a lift. 
There are various applications for outdoor lifts. Some of these are: 
Retrofit a lift to the exterior of a building 

Install a lift where its door faces the entrance point of a building 

Add a lift to reach a location not accessible with an internal lift

A platform lift (or mini lift) to reach a house or building entrance which only has stairs.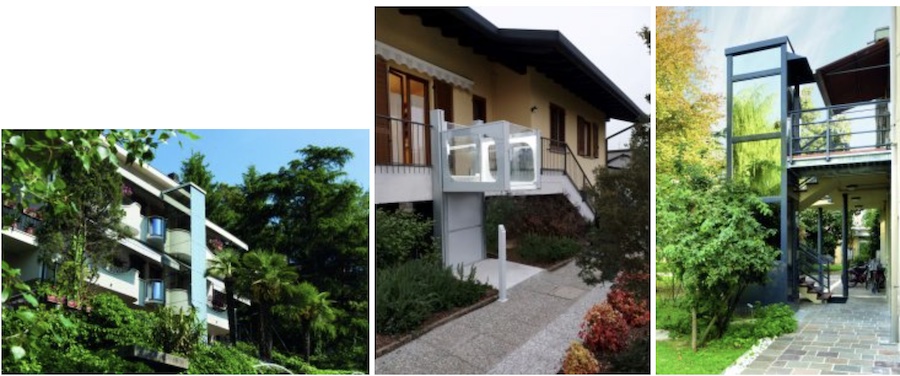 1. Type of lift
Ask yourself this question: "Do I require a commercial or residential lift?" 
While this might be a simple question to answer by looking at your lift applications, it can be one of the most influential when it comes to price determination. Commercial elevators require DDA compliance, so there are standards which need to be adhered to. This automatically raises the base price higher than a residential lift, as seen in the price indications given above. In saying this, our mini commercial lift (also known as a platform lift) is often an affordable option due to its 'simple' design, such as not having a lift shaft or extensive cabling.
2. Construction costs
External elevators may not cost more than an internal elevator in respect of product and finishes, however, the amount of construction work required to position the elevator where you want it to go can impact your overall project cost. 
For example, it may cost more to retrofit an elevator and its shaft into a building than it does to add one to the outside, as it may result in lower construction costs. Construction costs tend to be higher for internal retrofits as you may have to knock down walls, change plumbing or alter electrical wiring whereas creating a lift shaft on the outside of a building can avoid this. 
However, it could be more cost effective to add an internal elevator to the design of a new build. 
You will need to receive a customised quote from a lift installation company to find out which type of lift is best for your requirements and budget. 
3. Size and capacity of the lift
The size of the elevator plays a large role in the final price. If you require a large elevator cabin which can carry heavy weights, it will naturally cost more as it requires extra materials and labour to manufacture and install. This can include larger motors and increased engineering of components to support bigger loads. 
Your outdoor lift size and capacity requirements will be determined by its applications. For example, if it is intended for the vertical transport of heavy objects or large amounts of people. An outdoor elevator may create the flexibility needed to increase the lift size, but subsequently, results in a higher cost.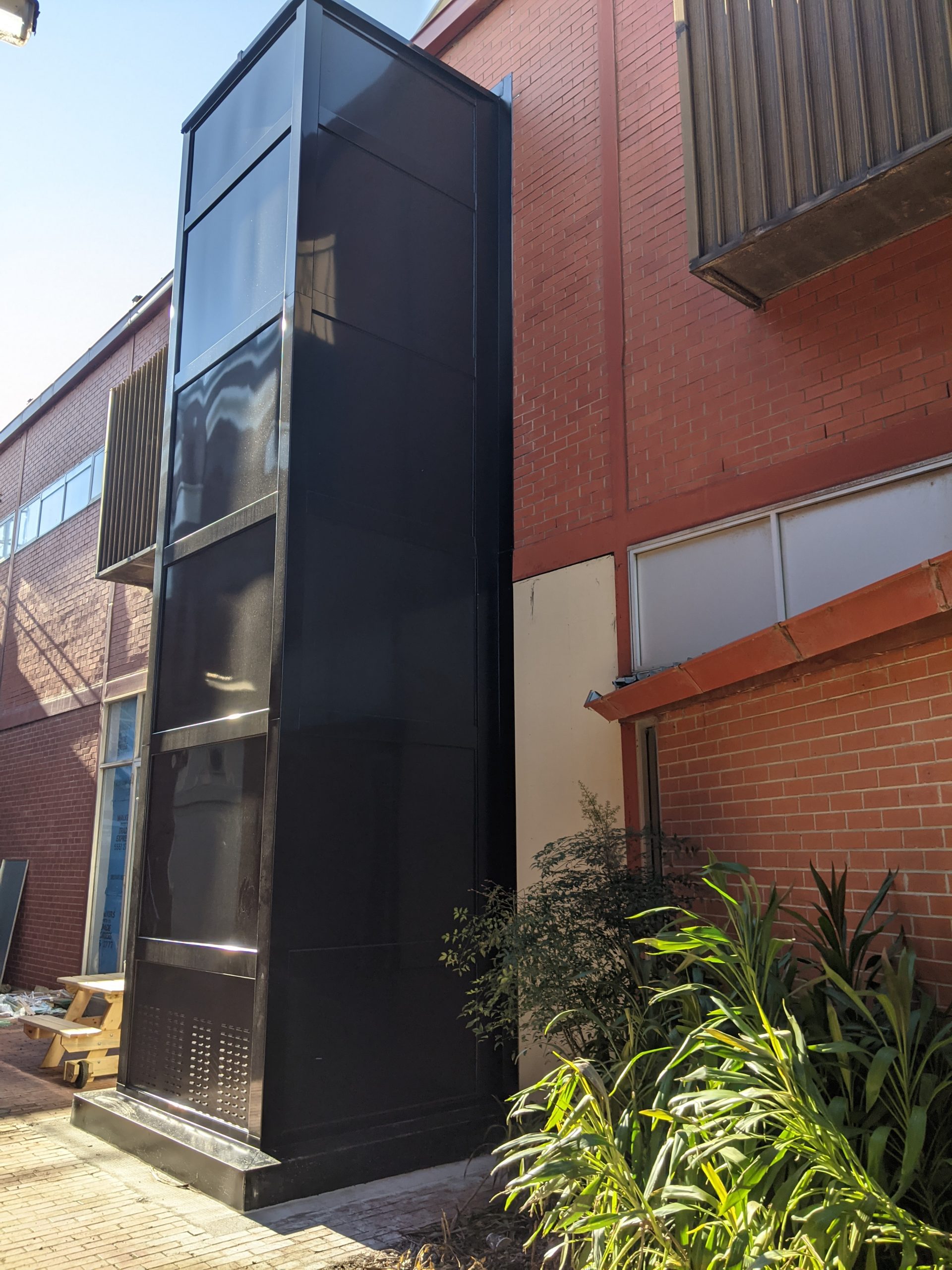 4. Lift travel distance & speed
For a residential lift, the average travel distance between floors and levels in most homes range between 2.7m and 3.5m. A standard travel distance for a commercial lift is approximately 4m. As a rule of thumb, the longer the travel distance, the more the price will increase. Again, for the same reasons of increased labour and materials needed. 
A factor that may be playing into the travel distance is the number of stops, which will determine how many landing doors are needed. Generally, the longer the distance, the more stops you are likely to have, which means an increase in materials and costs. 
The speed of the elevator can also impact cost, especially if the lift is large and heavy. As mentioned previously, the motors and engineering of the elevator will be larger and more advanced.
5. Manufacturer and material quality
As you might suspect, the manufacturer you choose will determine the quality of materials and the overall price of the lift. Generally, a higher or 'fair' priced lift installation from a reputable manufacturer will ensure the quality of your lift is of a high standard. This means a longer lifespan in your investment. So look out for lifts which have around a 30 year lifespan as these will bring you the greatest return on your investment. 
This is particularly important for external elevators as they are more exposed to the elements of nature. You will want a lift that can stand the test of time in the Melbourne weather. Otherwise, you could fork out thousands for an elevator which needs major repairs or replacement after a few seasons. 
To make the best choice of external elevator for your building, contact Platinum Elevators or come and visit our Keysborough elevator showroom in Melbourne to meet with one of our industry professionals today.