Cogs that turn with mechanical whirs.
Bells which chime and whistle.
Levers that pump and pull.
Puffs of smoke and steam that propel through the air. 
Is this what you imagine when you think about the insides of an elevator? You'll be pleased (and relieved) to know this only exists in your imagination.
While it might seem like magic that these "vertical railroads' can lift and transport you up and down your home, but it's really just simple science. Since you've clicked on this post, it's safe to assume that you're already curious about how home lifts work. Chances are, you're thinking about purchasing one. So let's dive into what you need to know:
How does a home lift work
Although every lift is different, and can be customised to your needs, the essential bones that keep them running are generally the same across the board. Home elevators may not be specifically required to meet the DDA Accessibility requirements (rules and regulations to ensure commercial and public use lifts are easy to use for all different types of disabilities), however they still need to meet Australia's strict building standards to ensure they're safe to use. In particular, home lifts must be designed according to the lift code: AS1735.18 – Passenger lift for private residence.
There is one particular type of lift (with many style variations available) for home use that is most popular in Australia, which are known as hydraulic elevators. The most popular choice is a hydraulic lift in a masonry shaft. These lifts are reliable, safe and great for frequent and heavy loads, which means that you can rely on them to last for the long run. 
And if you seek a little more luxury, without compromising on strength or safety, you can install them in their own customised glazed metal shaft, even creating a stylish round panoramic elevator.
 Here's the basics of how these incredible elevators work: 
Hydraulic lifts in a masonry shaft
Safe, reliable and strong, hydraulic elevators are the most popular type of home lift and are great for heavy use. 
In very straightforward terms, these lifts are moved by a piston that lifts the elevator car up. A pump pushes oil into a hydraulic cylinder with the piston inside and the pressure causes the lift to rise. To travel down, the oil is pushed back out of the piston and the lift lowers as the pressure on the piston decreases. 
See a range of different types of hydraulic elevators in masonry shafts here.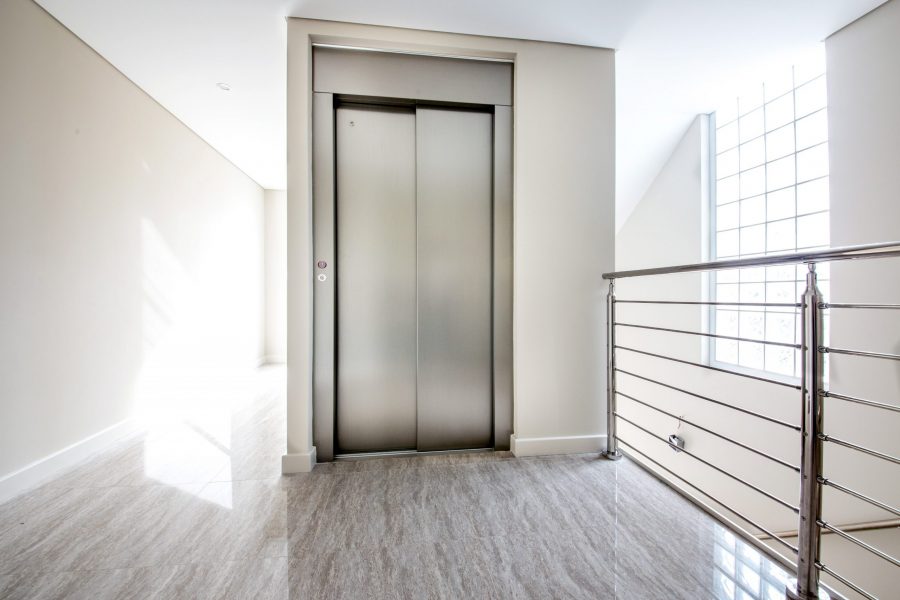 Hydraulic lifts in a glazed metal shaft
No elevator shaft? No worries. Hydraulic lifts in glazed metal structures work very similarly to their masonry shaft siblings with one core difference, they don't need an external masonry shaft built (hello space savers!). Sure they can come in many different shapes, but also known as round panoramic elevators, these are cylindrical lifts which are actually housed in their own glazed metal structure. They're just as safe and reliable as their masonry shaft counterparts and look ultra stylish!
See hydraulic lifts in glazed metal structures here.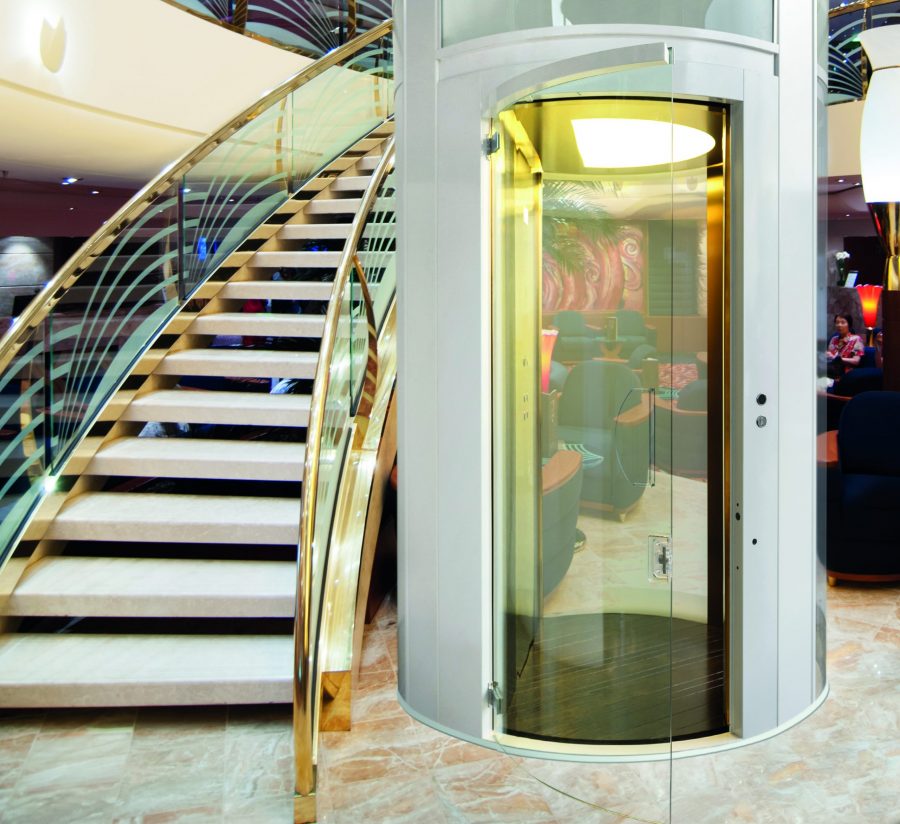 What you need to install a home lift
There are a couple of key things you need to install a home lift, no matter the style: 
A reliable power supply (your lift will have an emergency back up battery too)

Space in your home to install your lift and the lift shaft to house it 

An active SIM card or phone line connection to set up an emergency call system. 
If you're worried about space, you'd be surprised at just how compact home lifts can be, and what kinds of places they can be fit into. You can even have a lift shaft built as an extension on to your home if you're really short on space. Learn more about how and where to fit a lift into your home here. 
The difference between home and commercial lifts
In terms of mechanics, home lifts are pretty similar to their commercial counterparts. They still have to meet Australia's rigorous building codes and safety standards after all. What makes the real difference with home lifts, is the freedom of customisation. 
You see, while commercial lifts can still be beautiful, they do have some limitations placed on them by the DDA (Disability Discrimination Act). Lifts made for commercial spaces and public places need to be accessible by everyone, which means some creative licenses need to be toned back to make way for practicality and accessibility. When it comes to the home, the only person that your lift needs to be designed for is you. This means commercial rules regarding button heights, cabin size, lighting and more do not apply and can be completely tailored to your taste! Learn about all the ways you can customise your home lift to make it your own here. 
Tips to look after your home lift
If you take good care of your home elevator, it's pretty unlikely that you'll ever need to replace it, they are built to last after all. If you're wondering how to actually do that, it's easy! All you need to do is book in a once-yearly service and safety check with your lift provider. A good elevator company will actually send you reminders when they're due. These services are important because they: 
Prevent your lift from breaking down

Maintain your elevators parts

Replace and update parts as needed

Make sure your lift continues to run safely and smoothly.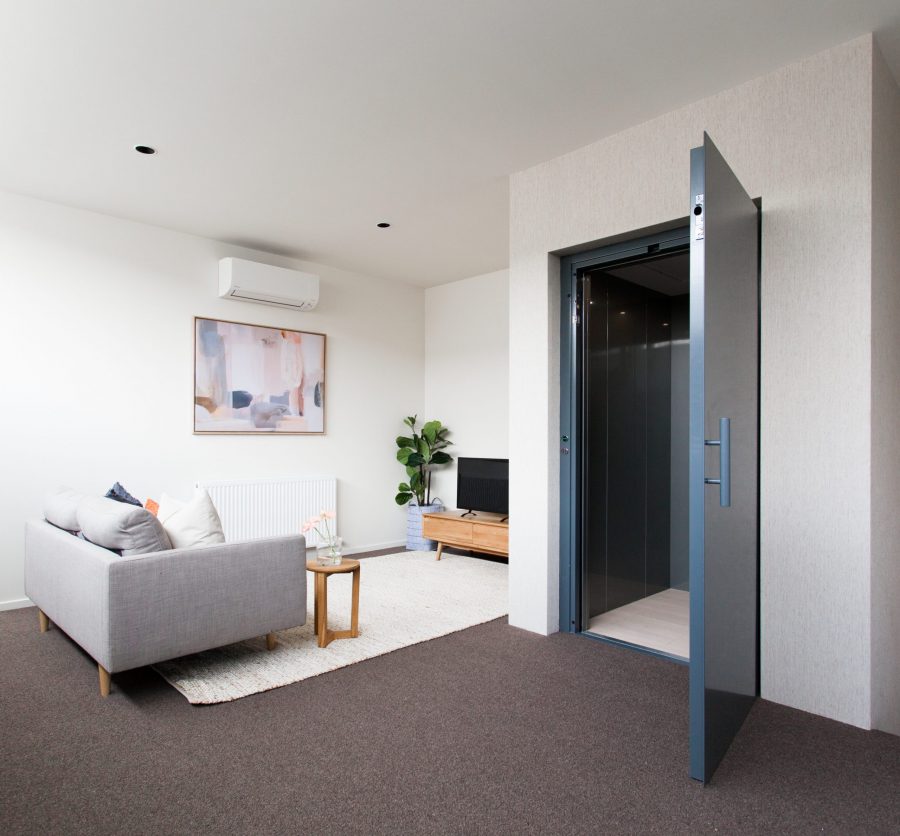 Now that you're more confident that you have your head wrapped around the basics of how home lifts actually work, your next step is investigating the different styles and design options available to you and the ways in which you can customise your lift to make it truly your own.
If you're ready to get the ball rolling, get in touch with one of our friendly team members, or pop down to our state-of-the-art functioning Melbourne showroom.