So you've decided to install an elevator into your home. It's great for accessibility, increases home value, and has countless other benefits. But now you need to choose where you actually install it in your home. This decision can seem pretty daunting, but never fear! Read on for your step by step comprehensive guide. 
Knowing where should you install your home elevator
You may worry about changing the design of your home with a structure that throws off your interior design. You could be afraid that limited space in your home will force you to place your elevator in an inconvenient location. While these types of concerns may cross your mind the perfect spot can be found if you identify and prioritise your wants and needs first.
Some of these may include: 
Direct access
Do you want your elevator to give you immediate access to a specific room or part of your home?
Perhaps you want to be able to arrive home and have quicker access from the garage to your upper floors. 
Size requirements
How much room do you need? If you only need to fit one or two people standing, you will be able to opt for a much smaller lift than if you require wheelchair access. 
Visual appeal 
If you love the current design of your home you may want an elevator that is discreet, minimalistic and easily tucked away. Something subtle, yet stylish, that will blend seamlessly into your home. Alternatively, you might be looking for an eye-catching design which you can proudly present as a unique feature, conveying a sense of heightened luxury. There is a wide range of stylish lifts available on the market which can fit your desires.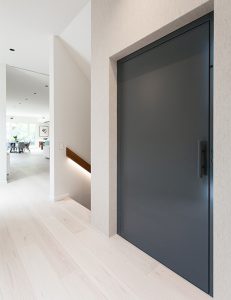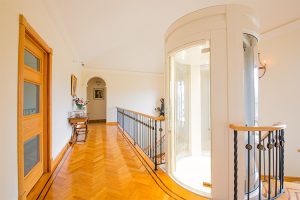 Left: Residential Classic Lift  Right: Panoramic Lift. See all our residential lifts here.
Common home elevator locations
Right. Now that you know your needs, you can now identify the most practical location to install it. While it is possible to install an elevator almost anywhere in a home, these are the locations chosen more frequently because of practicality and design aesthetics. 
#1 The stairwell 
Quite commonly, people chose to install their residential lift adjacent to their stairwell. During your home's construction, your builder or architect will carefully consider the location of your staircase based on practicality and the overall home design. Because of this, the stairwell or space adjacent to it will often make an equally convenient location.
Style tip: If you have a spiral staircase or one with a right-angle turn halfway up, you can sometimes convert the empty space into an elevator shaft. Not only does it look great, but it is a super practical use of the (otherwise unused) space. 
Materials tip: Match your design materials with similar or complementary materials used for your staircase for a seamless design blend. 
Biggest consideration: Is there adequate space near your staircase to actually install an elevator shaft?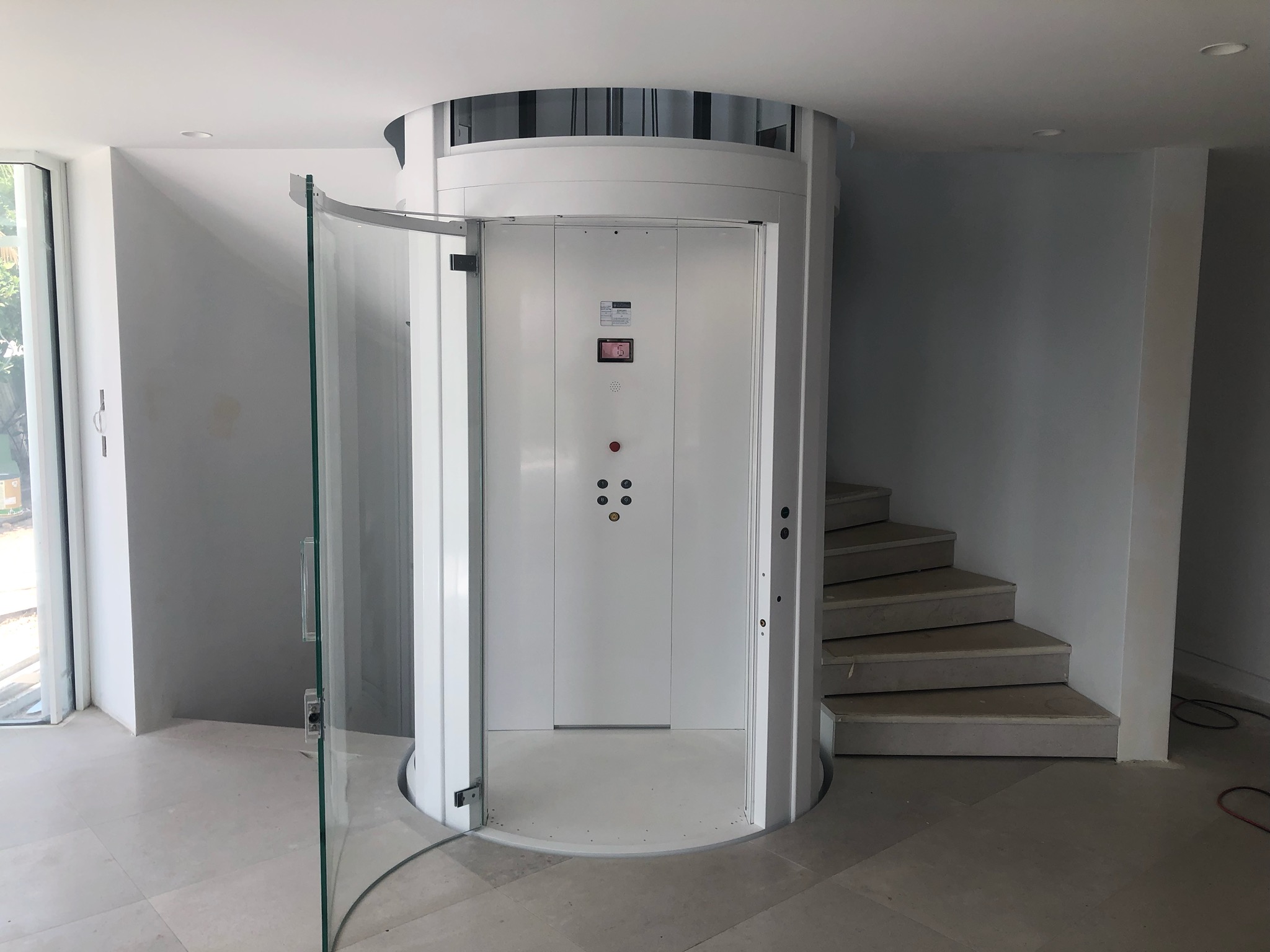 Image: Panoramic Lift
#2 The garage
Another common location for a home elevator (grounded strongly in practicality) is the garage. Having a lift directly at the user's most common point of entry can really maximise functionality and help you get in and out of your home smoothly.
Style tip: It is common for a garage to look completely different, style-wise, to the rest of the house. Because of this, you might find it tricky to choose an elevator design that compliments both. In this case, it may be a great idea to opt for neutral colours like black, white, grey and silver to suit both areas. 
Materials tip: Your garage may be less insulated, or more prone to damaging weather conditions than the rest of your house. If you are installing an elevator in a garage or outdoors, look for designs that utilise hardier materials (like stainless steel and stone) that will not fade or rust easily. In this case, you may want to avoid models with wood detailing. 
Biggest consideration: Is your garage located below a good location for an elevator on the upper levels?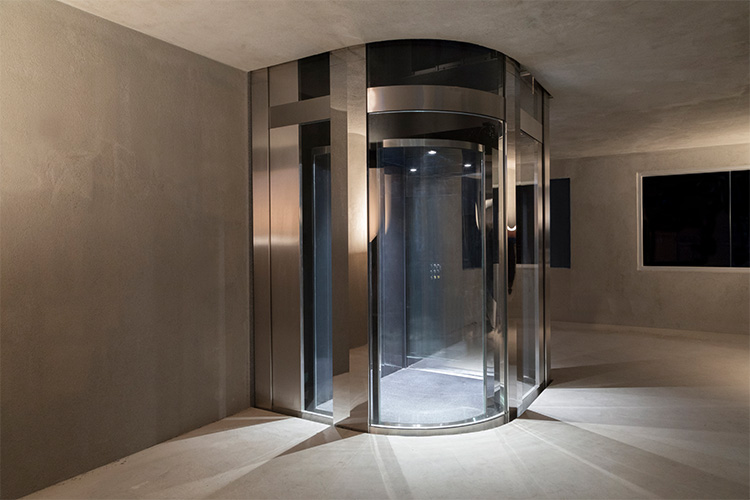 Image: DDA Lift
#3 Adjacent to core rooms
It is also common to see elevators placed in locations near (or inside) frequently accessed rooms, like bedrooms, living rooms and kitchens. If you choose to install your lift close to rooms that you use the most, it can really support your comfort and independence, while helping to reduce strain caused from everyday movements around the house. It can also help those with limited mobility spend more time on things they love and less time trying to move around the home. 
Style tip: This may be a great time to have some fun with your design and really choose a statement piece for your home. Choose a bold colour that compliments your home's interior design. Alternatively, smaller rooms tend to suit lifts with more neutral colours as they blend better with surroundings and prevent it from feeling crowded.
Materials tip: Being within the home, you can choose detailing like stylish wood panelling or brightly coloured paint, without the worry of natural elements causing fading or damage. 
Biggest consideration: Which core rooms do you want to be able to access easily? Will multiple people rely on the elevator, and if so, what places do they all need to access?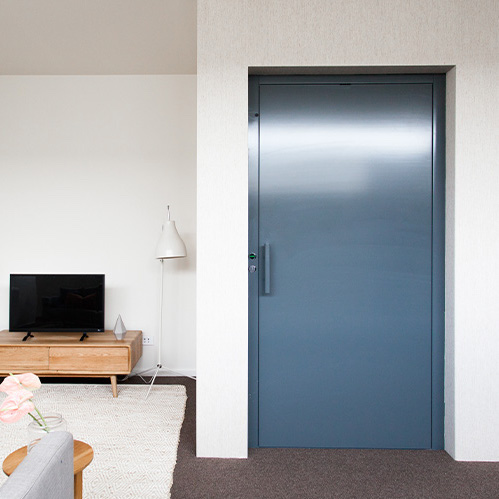 Image: Residential Classic Lift 
What you need to consider
If installing an elevator into a new home that is in the process of being built, you will have much more freedom to place your lift where you like. When retrofitting a lift into an existing building you need to consider not only the space required for an elevator shaft, but also the structural support needed to ensure the lift is safe and fully operational.
New homes
You have lots of flexibility with your lift location. In fact, you can place your lift pretty much anywhere you'd like if it is considered early on into your design process. Your elevator installation contractor can work with your builders and designers to create the perfect home layout for optimal lift functionality and reach. 
Retrofitting
Installing a lift into an existing home may feel a little more limiting. Firstly, it's crucial you consider the space available, but you'll also need to check your chosen location can provide enough structural support to ensure everything is safe and operational. You'll really see the benefit of opting for an industry professional in these situations. They can guide you through the process, helping you choose the best location for functionality, practicality and aesthetic design. 
To summarise
Here are the questions you need to ask yourself when choosing where to install your home lift: 
How many floors do you need your elevator to access? 

Do you want elevator access to a specific room? Eg. Bedroom, garage etc.

What are your size and capacity requirements? 

Do you want a minimal and discrete design or a luxurious feature piece? 

If you are retrofitting an existing home, what space do you have available? 
Source professional help
Looking for an elevator company in Melbourne to help? The knowledge and expertise of an industry professional along the way really makes a difference to ensure your elevator is exactly how you envisioned it in your home.
Whether you're building or looking to retrofit, Platinum Elevators are here to help you on your journey. For more information, call us on (03) 8672 0372 or visit our showroom for a friendly chat with our industry professionals.