You've been thinking about this moment for months, maybe even years. You've got Pinterest boards for days, filled with inspiration to transform your home into a haven for retirement or amp up its wow factor. 
Now, it's finally time. And a residential elevator is at the top of your list. 
The addition of a lift to your home is an exciting process. But one of the biggest roadblocks homeowners have is 'Have I got enough space?' 
Good news, the cost of a home lift isn't the only thing that's gone down. Elevator design has come a long way and now home lifts are much more compact and space friendly – we can even install a home lift in a cupboard or closet! Of course your personal preferences and needs will impact the final size (hey, maybe you want an extra large feature piece that commands appreciation – we don't blame you!). But you may be surprised where you can fit your big elevator expectations. 
So how much space do you actually need to achieve your home lift dreams? Read on to find out about size requirements for your home lift and what factors may impact this.
How much room do you need inside your home lift?
Before you can determine how much space you need to install your lift, it's important to consider the dimensions you require for your home lift cabin. 
Will you need space to comfortably fit one wheelchair and another passenger? Or is it possible you'll want to accommodate two wheelchairs at once? Perhaps you only need to fit one to two passengers standing? 
Once you've identified how much space you need for accessibility purposes, then you can start to consider the lift designs that meet these needs and assess potential locations in your home.
How much space does a home lift need – the size of Melbourne home lifts
Now, the stuff you clicked on this post for. How much space do you need for a home lift? 
Home lifts from Platinum Elevators in Melbourne start with a cabin size of 600mm by 600mm and go up to 1100mm by 1400mm. 
The factors that impact these sizes are: 
Chosen lift design 
Your individual spacial needs
Whether you want to increase the cabin size to fit more passengers. 
In order to comfortably fit a small residential lift in your home, we recommend an area at least 1200mm by 1200mm.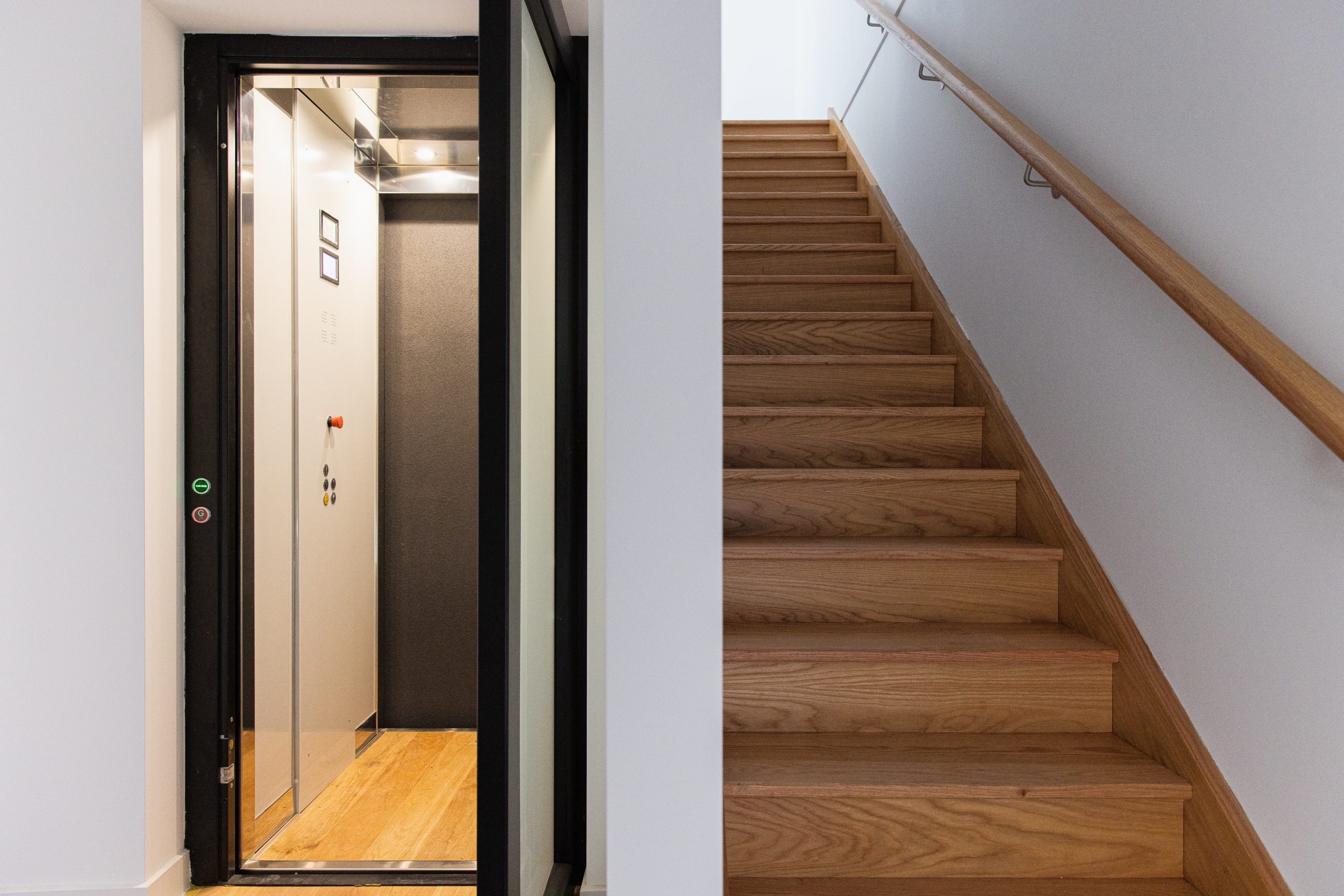 The most popular places to install a home lift in Melbourne
To get an idea of where other Melbourne homeowners have installed home lifts and give you an idea of how much space you might need, these are the most popular places chosen:
In the void space of a stairwell 
Adjacent to the stairwell
From the garage to upper levels 
Outside the home with an external shaft on an exterior wall 
In the main entry 
In core rooms (eg. bedroom or living rooms)
In wardrobes and some large cupboards.
Placement restrictions for Melbourne home lifts
While you can install an elevator in most parts of your home that have enough space for a shaft, there are a couple of restrictions to keep in mind.
We are unable to install a home lift in these places: 
Close to your property boundary line (this one's a council requirement)
Over a body of water (for example, you can't install a lift directly above an underground bore water supply)
Above underground car parks (unless the lift is providing access to underground car parks and can have the pit placed underneath it).
Ready to make your home lift dreams a reality? These are some helpful links to get you started: